Skip to Main Content
It looks like you're using Internet Explorer 11 or older. This website works best with modern browsers such as the latest versions of Chrome, Firefox, Safari, and Edge. If you continue with this browser, you may see unexpected results.
Internet of Things: Smart Home Prototype
Why Internet of Things (IoT) for a Smart Home?
With the advancement of technologies, we are now a lot easier to access the internet with different electronic widgets compared to the past decades. IoT technology is developed to make use of the vast usage of internet so as to create an environment for centralized control. Let's look into the case of our home. When we feel that a room is dim, we have to switch on a light. Similarly, we are required to turn on a TV with a remote. "How about making a controller panel that can turn on all electronic appliances in our home?" One of the solutions of this question is making our home smarter with IoT.
To learn more about our IoT Smart Home Prototype, please pay a visit to the Smart Home model in the Digital Visualisation Room, 4/F, i-Space.
Components in the IoT Smart Home
IoT Server Platform

Open Source IoT Platform - ThingsBoard

IoT Controller (Available to borrow)

Smart Components

Smart air-conditioner support constant temperature settings

Smart door lock with alert system

Smart light system

Automatic irrigation system (Coming soon!)

Sound metric heat map (Coming soon!)
Smart components can be monitored and controlled via the a dashboard on the IoT Server Platform: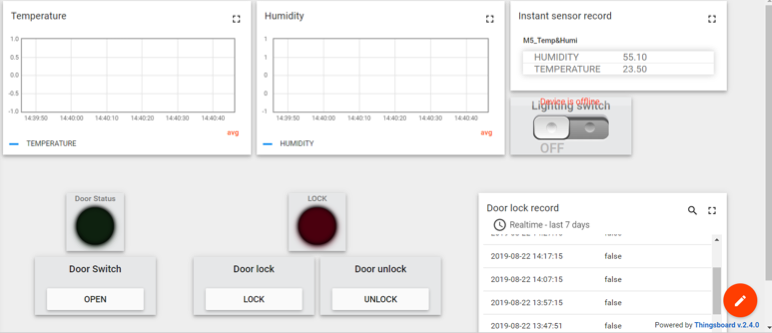 Historical data will be visualized with different widgets:
Team member
| | |
| --- | --- |
| Leung Chun Hin, Declan | Department of Computing |
| Ng Man Sing, Sam | Department of Electrical Engineering |
| Tsang Ho Fung, Timmy | Department of Building and Real Estate |
| Li Shuk Wun, Sharon | School of Design |
(November 2019)