Types of Periodicals
---
Library provides access to a rich collection of periodicals in both print and e-formats. The collection includes:
Popular Magazines: covered short articles written by journalists, staff or freelance writers on current events, news, opinions and topics of general interests.
Professional or Trade Journals: usually written by staff writers or specialists of a particular business, industry or organization to update interested parties on the latest industry trends, new products or techniques, and organizational news.
Scholarly Journals: mostly authored by professors, researchers and students that focus on frontier research projects, theories, and methodologies. Most scholarly publications are peer-reviewed which means that their articles have gone through a critique and approval processes by the subject experts before publication. To know whether a journal is peer-reviewed, refer to the tips at Check whether the journal is peer-reviewed.
---
Where to Find Journal Articles
There can be more than one way to get the information we need. To find journal articles we can go for both Google Scholar and library databases. However, search results can vary depending on the coverage of sources and their searching mechanism.
Understanding the difference among these platforms can help you choose where to go when you have a specific research need.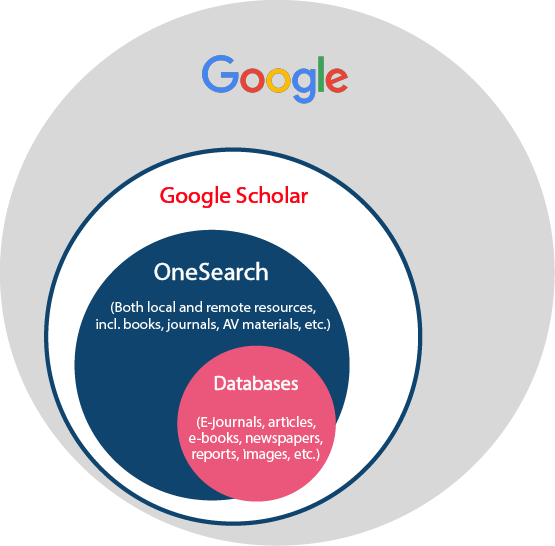 OneSearch

- Library's search engine; covers over 90% of the library collections at item level across disciplines and material types.

Google Scholar

- A scholarly version of Google; has the largest pool of scholarly articles. However, it is the least trusted platform because many retrieved articles are not peer-reviewed works.

Article Database

- Allows you to search within a specific field (e.g. title, keywords), and refine search results using filters - All to help you find what you need quickly and effectively.
Request an article through Interlibrary Loan (ILL) services - for articles that are not available in our collection